TRIVIA & BIOS




THE PLAYMATES

www.oldies.com/artist/view.cfm/id_643.html

http://216.52.241.225/nad/music/artist/bio/0,,480027,00.html

GOOGLE SEARCH FOR "THE PLAYMATES"



This humorous US pop trio comprised Donny Conn (b. 29 March 1930), Morey Carr (b. 31 July 1932) and Chic Hetti (b. 26 February 1930), all from Waterbury, Connecticut, USA. They formed the comedy and music trio the Nitwits while studying at the University of Connecticut and started touring in 1952 with an act that relied more on humour than singing ability. Renamed the Playmates, they made their first record, "I Only Have Myself To Blame", on Rainbow in 1956. Despite the oft-corny lyrical content of their upbeat pop fare, they earned two hits right away with "Jo Ann" and "Beep Beep."

They moved to Roulette Records in 1957 and their third single on that label, "Jo-Ann', a cover version of the Twin Tones" record, hit the US Top 20 in 1958. Over the next four years the clean-cut vocal group chalked up another nine US chart entries including the Top 20 hits "What Is Love?" and "Beep Beep", the latter with a chorus that featured the group repeating a phrase of car beeps ("beep beep, beep beep, this car goes beep, beep beep"). Despite its silliness, "Beep Beep" -- written by group members Carl Cicchetti and Donald Claps -- climbed to number 4 in the nation in December 1958 and earned the Playmates the right to record an album, At Play With the Playmates, which followed soon after.

They later recorded on ABC-Paramount, Colpix, Congress and Bell but their sound proved too dated to sell in the 60s. The group disbanded in 1964.









---




Seinfeld


Oct 24, 2004 10:31:23 GMT.

A multimillion-dollar dispute over royalties between Jerry Seinfeld and the three co-stars of his long-running television comedy series has finally been settled, allowing the release of an official DVD collection of the show's 180 episodes, plus newly filmed interviews and other material.

In an exclusive interview with The Globe and Mail, Jason Alexander (who played George Costanza on Seinfeld) said a deal "has very recently been worked out" after months of tension.

Describing the comedy star's behaviour over money as "inappropriate," Alexander said that he, Julia Louis-Dreyfus (Elaine) and Michael Richards (Kramer) had refused to provide extra material for the DVD collection because Seinfeld and Castle Rock Television, which produced the series for NBC, refused to pay them or offer a share in the royalties.

He said the Seinfeld producers have now agreed that the three co-stars will also earn royalties from the DVD collection.

"We are currently in negotiations so that we are participants in the DVD and that's a happy arrangement because we didn't really want to create this sort of negative impression of our experience," said Alexander, who has just ended a nine-month run in a theatre production of The Producers in Los Angeles.

Michael Richards broke ranks in December and agreed to work on the DVD.

"I innocently asked a question, 'Is there some compensation?' I don't believe there is," Richards told The New York Times.

A similar dispute nearly scuttled the last series of the nine-year-long show. The three co-stars have no share in the royalties, which have netted Seinfeld more than a billion dollars.

Alexander said the three co-stars decided to get tough during negotiations for the final series in 1997. They told NBC Entertainment chief Warren Littlefield that Jerry Seinfeld's decision to cut them out of the show's massive royalties had created an unacceptable gap between the actors.

They did manage to raise their fee for the final series to the same level as Seinfeld himself -- about $1-million an episode -- but Alexander said it was done with a heavy heart.

"We made a deal that was acceptable to us. We got paid very handsomely for our final season," he said. "It was in the pool of profit for NBC to give us those salaries.

"We weren't asking for something that wasn't there, but it was still inappropriate. It drove the cost of production of a TV show sky-high.

"I remember saying to Warren Littlefield: 'We're not kidding and we deserve this, but you're an idiot if you make this deal. It'll destroy television.' "

Alexander said the three co-stars would have greatly preferred "back-end participation" -- a share in royalties from future profits, rather than taking such huge salaries up-front.

"Julia, Michael and I, during our big renegotiation for the final year, asked for something that I will go to my grave saying we should have had, and that is back-end participation in the profits for the show.

"It was categorically denied to us, which forced us to then ask for ungodly salaries," he said.

"We make very little, standard Screen Actors Guild residuals for the reruns," he said.

"I'm not ashamed to talk numbers. I would say in the years that we've been in syndication, Julia, Michael and I have probably individually seen about a quarter of a million dollars out of residuals, whereas our brethren have seen hundreds of millions of dollars. Seinfeld has a profit of over a billion dollars."

"When the DVDs came up, we were being asked to provide new services," he said. "We had no problem with the DVDs being released, but then they said, 'We want you to perform new services. We want to do interviews and create additional footage and additional material.' Why would we do that? They said, 'Because of the legacy of the show.'

"Well, the character of George is not a millstone around my neck but I had to turn to my former bosses and say, 'I'm not invested in the longevity of the show. The longevity of the show actually is a detriment to me right now. It keeps me from getting certain kind of work. You have not made me a participant in the life of this show, therefore I am not inclined to give you these services.'

"It took a while for them to understand. Frankly, I think they were well prepared to proceed without our services until the audience said, 'Don't do that.'

"I said to Jerry when he made the decision years ago to not let us in, 'The day will come when you regret this decision, only because it's going to put us in a position eventually of seemingly tainting the wonderful impression of what this was for the four of us.

"You have created a rift between you and the three of us, and while we are in no way, shape or form looking for parity with you, you have created a chasm that is also inappropriate,' " Alexander recalled.

posted March 1, 2004

•From www.stanthecaddy.com/pact-brings-peace-to-the-seinfeld-cast.html
• forum.dvdtalk.com/archive/t-337189.html - Thread on money dispute
• Google: seinfeld " "co-stars" dispute over money









---




Star Trek:
Rumors, Fueds, etc.


http://trekmovie.com/2010/12/09/george-takei-william-shatner-refused-to-appear-on-stage-with-james-doohan-at-farewell-con/
http://bigfrienzy.proboards.com/index.cgi?board=news&action=display&thread=1377&page=1
http://boardreader.com/thread/Why_does_he_hate_William_Shatner_piviX2pim2c.html


There was some animosity between Shatner and the rest of the cast of Star Trek. For many years Leonard Nimoy wouldn't speak with Shatner. In the first days of Star Trek William Shatner became agitated at the attention 'Spock' was recieving. Nimoy would recieve fan mail from women, quite often erotic mail. Spock was highly logical, intelligent and also heroic. Many women found this attractive. They might have felt they could strip away his cold exterior and free the man.

His fan mail, and the reception he recieved at public appearences made it perfectly clear who the ladies wanted. Shatner, allegedly, didn't like this. He was the Captain, the hero, the leading man, and it should be he that got the attention. He objected to the attention so much that he reportedly demanded that Spock was never to get the girl, only Kirk.

Years later Shatner had confessed that he did have a bit of an ego, and maybe was a little pushy. He alleges that he has made it up with his 'crew', though it would seem that George Takei is a little less forgiving.

The "2004 Planet XPo" event, "Beam Me Up Scotty…One Last Time" tribute in Hollywood, CA, was the last convention appearance for James Doohan, Star Trek's Scotty, who was suffering from Alzheimer's and passed away in 2005. The convention featured appearances from William Shatner, Leonard Nimoy, Grace Lee Whitney, Majel Barrett Roddenberry, Walter Koenig, George Takei, Nichelle Nichols and other Trek and space celebrities. The event ended with most of the Star Trek stars joining a wheelchair-bound Doohan on stage for one final goodbye.

William Shatner refused to appear on stage with Doohan for "Beam Me Up" con finale. According to Doohan's son, Chris, Leonard Nimoy had to leave for another event. However, William Shatner specifically refused to participate. According to the report, Shatner told the convention organizer: "I don't want to do this and I really don't want to deal with all this Alzheimer's crap." Instead, one of Doohan's biggest fans went on in his place: Neal Armstrong..the first Man on the Moon.

George Takei said,"It was not surprising, but yes shocking… This is the usual thing that happens on the set, whether it was the TV series or the movies, or at conventions. This was another convention where he decided he was not going to do what they wanted him to do, and he walked out."

According to Chris Doohan's Myspace blog entry, earlier at the convention, Shatner participated in a photo op with Doohan and other Star Trek cast members, and Shatner told Doohan he "loved him", with James returning the comment, seemingly putting their long-time feud behind them.

In a November 2003 convention in El Paso, Shatner and Doohan went on stage together. Behind the scenes and before they went on stage, they hugged each other, apologized and expressed their love and admiration for each other. Bill specifically asked me to get them together so he could make amends and clear the air between the two of them before it was too late.

Why there was friction: The other actors resented the amount of control Shatner had over the production of the show. Takei mentioned that that he had suggested a few lines or actions for Sulu. However, when it came to filming the scene, these ended up being done by Shatner.

It seems Shatner saw himself as the number one star and believed that - as the captain - his part had to be the largest, he deserved all the airtime and the best scenes - at the expense of the other actors. He also got jealous when Leonard Nimoy started receiving as much fan mail as he did. Basically, he was a bit of a prima donna.

Watch the "Doomsday Machine" - you see Shatner stepping all over Scott's lines. Scotty orders Washburn to do something & Kirk just contradicts him & ruins Scotty's scene. Restoring a wrecked starship would be engineering's job, so Kirk's intrusions did not help the episode. Shatner was never fair to any of his co workers.







---




"Bob's Your Uncle" Origin

http://www.urbandictionary.com/define.php?term=Bob's%20your%20uncle

"Bob's Your Uncle" is a catch phrase dating back to 1887, when, in a blatant case of favoritism, British Prime Minister Robert Cecil (a.k.a. Lord Salisbury) decided to appoint his nephew Arthur Balfour to the prestigious and sensitive post of Chief Secretary for Ireland.

So "Bob's your uncle" is another way of saying "your success is guaranteed."

You just snap these together like this, and Bob's your uncle - you have a working model!
You want to go to the stadium? Go straight ahead until you reach the park, then take the first left, and Bob's your uncle - you're there!







---




"Trouble At Mill" Meaning

"Trouble At Mill" is some strange olde north-of-England expression which appears to mean trouble at the "mill", probably of the cotton variety, during the industrial revolution.

It means, "There's been a bit of a crisis".

Colloquially it is popularly used as a sarcastic form of "are you experienceing some sort of personal problem?"









---




Johnny Carson


Born October 23, 1925. in Corning, Iowa, grew up in Nebraska, and served in the U.S. Navy, from 1943 to 1946, and worked as a magician in the 1950s. Carson eventually took a job in radio, and later moved on to game shows.

Carson filled in for Jack Paar as a guest host on The Tonight Show on a few occasions during this time. When Paar's politics became a liability for his employer, NBC, he was fired. Carson became The Tonight Show 's new host. Carson moved to New York City, where he took on his new role on October 2, 1962. He co-wrote the show's new theme song (with the help of Paul Anka) and his first guest was Groucho Marx.

1972, The Tonight Show moved to Burbank, California. Carson stopped hosting shows on Mondays, leaving this duty to guest hosts such as Joey Bishop, Joan Rivers, Bob Newhart, Jay Leno, David Brenner, McLean Stevenson, Jerry Lewis, and David Letterman. Carson's reign nearly came to a premature end in 1979 when, unhappy with his working arrangements, he threatened to quit. NBC managed to defuse the situation by shortening the show's running time from 90 to 60 minutes and giving Carson a pay increase and additional vacation time.

In private life, however, Carson was entirely his own man. He was rather distant regarding others. While some celebrities are perpetually "on" and constantly networking, Carson kept to himself off camera. He was pleasant, but detached. Throughout his retirement, Carson largely stayed out of the limelight. He did a voice on The Simpsons, and made an unexpected appearance on the Late Show with David Letterman (who he also provided jokes for).

Carson fired key staffers, sometimes without giving them a reason. He fired his manager, Al Bruno, after he worked for him for ten years. He was the man responsible for signing Carson with NBC for The Tonight Show and he "discovered" Ed McMahon. Carson also axed Art Stark, who created the show's format and oversaw the show down to its guests and its tempo. According to head writer Walter Kempley, Carson thought Stark was too negative and wouldn't allow changes in the show's format. Former bandleader Skitch Henderson said that Carson's banter with him was an act; he didn't socialize with him regularly. Some writers disliked working for Carson because of his "sour disposition" and a fear of being fired without notice.

When Rickles, on one of Carson's nights off, smashed the host's precious cigarette box, Carson the next night marched into the adjacent studio, where Rickles was taping his sitcom series "C.P.O. Sharkey," and demanded retribution from the comic.

Johnny stopped talking to Freddy DeCordova because of a disagreement they had over whether or not they should do a tribute to Johnny's son on the air or not. Johnny pretended to agree with Freddy about how it wouldn't be good for the air but he was actually pissed and ended up firing the guy and never spoke to him again about it.

Carson smoked a cigarette-brand more virulent and ferociously unfiltered than any other on the market (Gitanes?), and didn't mind joking about smoking. Once he offered this light-hearted advice on longevity: "If you must smoke, don't do it orally."

In an uncharacteristically revealing moment in the 60s, Carson said that a man has to choose, and realize, which is more important, his family or his job. For him, he said, it was the job.

Leno had been designated permanent guest host in 1987; when he was subbing, the show's ratings had often matched or surpassed Carson's, and with higher viewership in the 18-to-49 age group that advertisers drool to reach.

Carson wanted it known, and needed to prove, that showbiz wasn't his life, it was his job. He would not permit himself the cliché of the aging star. His luster may be vanishing with him. Though "The Honeymooners" churns away on nostalgia networks 50 years after it was made, Carson's program, apart from modestly selling video compilations, hasn't grabbed current audiences. Humor about subjects of that day, and guests plugging next week's movie, makes it a candidate for a time capsule. (It didn't help that some dolt at NBC, in a catastrophic economy move, taped over the first decade of shows.) In retirement, he played poker every month or so with Steve Martin, Carl Reiner and a few other friends. But he kept two old habits: writing topical gags (he sent a few to Letterman, and contributed two pieces, midwifed by Martin, to the New Yorker), and smoking.

In 1981 the Tonight show has been shipped to Britain, where a 40-minute version airs once a week, to a bit of national befuddlement, considerable indifference and a few shreds of outright hostility. Carson was shown in the ITV London region for a short time in 1981. Guess what? He bombed.

Carson used to smoke like crazy and he ended up dying of Emphysema. He used to hide his cigarette under his desk when he'd come out of commercial break.









---




George M. Cohan


From: http://www.musicals101.com/cohanbio1.htm

Cohan's baptismal certificate -- which is his only written birth record -- verifies that he was born in Providence, Rhode Island on July 3rd, 1878. However, Cohan's family unfailingly insisted that George and his country shared birthdays on the 4th. When he was eleven, he and Josie joined his parents in a full family song and dance act.

In boyhood, he was not shy about letting people know his opinions on anything, particularly anything related to "the show business." He had the jarring habit of telling off stage hands, fellow performers and theater managers. Seeing others take advantage of his naturally easy-going father only fed George's fire. Despite frequent warnings that adults did not appreciate his behavior, George kept at it until he was generally known as a backstage trouble maker.

The Four Cohan's made their Manhattan debut at B.F. Keith's new Union Square Theater in 1893. Keith needed to fill out the opening bill, so he ordered that the Cohans perform separately. This put the whole family at a disadvantage, especially George. The furious teenager made such a disruptive fuss that the theater manager almost fired him, then relegated him to the dreaded opening spot on the bill. Audiences still finding their seats (or reading newspapers) traditionally ignored the first act, and George's solo song and dance act was no exception. In vaudeville parlance, he "died" at every performance, four shows a day. Adding to his chagrin, Josie's solo dance act was such a success that it paid the family's bills for the rest of the year.

This event marked a turning point for George. It taught him that emotions could be dangerous. From this point forward, he usually kept his deepest emotions to himself, or channeled them into his plays and songs. In his vast archive at the Museum of the City of New York, there are no personal letters or written recollections of his feelings -- save for one scribbled poem deriding Hollywood film makers. There would be one time in later years that Cohan would let anger get the better of him in a public dispute, and the results would confirm his worst fears about the price of emotional expression.

George was only seventeen, but his songs, skits and shrewd management quickly brought The Cohans greater recognition. They became the most highly paid four-act in vaudeville, eventually earning $1000 a week – a tremendous sum for the 1890s. Vaudeville impresario B.F. Keith realized that a genuinely devoted family performing together had an irresistible appeal, and he now booked them at his best houses. When audiences demanded extra bows, George responded with a one-line curtain speech that was supposedly invented by a comedian spoofing the family's closeness. It became Cohan's lifelong trademark – "Ladies and gentlemen, my mother thanks you, my father thanks you, my sister thanks you, and I thank you!"

B.F. Keith's dictatorial style eventually became more than the Cohans could bear. When the family did not get proper billing at an important engagement, an enraged George swore that no Cohan would ever work for Keith again. Since Keith's office controlled the bookings for every major vaudeville theater in the country, the Cohans had no choice but to make the jump to the legitimate stage.

George was introduced to Sam Harris, a gambler and boxing promoter who combined a solid business sense with a passion for the theater. Cohan and Harris formed a partnership that became something of a Broadway legend in its own right.

With his dream of stardom fulfilled, he set his sights even higher. As he reputedly told a friend – "I'll never be happy now until I own a part of Broadway. Just a little part, mind you. The top part."

Cohan had clearly hoped his marriage would be like that his parents enjoyed, but Ethel Levey was too talented to stay in George's shadow for long. Tensions rose between them, no doubt fueled by suggestions in the newspapers that Josie Cohan resented Ethel. When George's occasional overnight "writing" sessions at various hotels became more frequent and prolonged, Ethel suspected the worst -- as it turns out, with good reason. In 1907, she obtained a divorce on grounds of adultery. Ethel remained one of vaudeville's most popular headliners and raised daughter Georgette on her own.

Within months, George married Agnes Nolan, a chorus girl who was refreshingly unimpressed with his fame. Sam Harris soon married Agnes' sister -- and the longtime partners became in-laws.

George and Agnes Cohan had three children, Mary, Helen and George, Jr. The last birth was difficult, and the use of morphine as a prescribed pain killer left Agnes with chronic health problems that were never publicly discussed. She became a homebound recluse and some sources suggest that George eventually found extramarital distractions -- resulting in at least one illegitimate son. But the marriage endured, and George's peccadilloes remained well-kept secrets

When his autobiographical drama Popularity (1906) failed, he turned it into a musical shamelessly entitled The Man Who Owns Broadway (1909) -- and this time around, it became a hit

Cohan directed all his productions to run at a quick pace, never giving an audience the chance to feel bored. He once defined his approach this way -- "Speed! Speed, and lots of it; that's my idea of the thing. Perpetual motion."

Cohan's sister Josie unexpectedly died of heart failure in 1916, and his beloved father Jerry faced the same fate a year later. Emotionally devastated, George found comfort in his work. Still one of America's top songwriters, he owned his own music publishing firm, guaranteeing the fullest possible profit from every song. When the United States entered World War I in 1917, Cohan's stirring "Over There" captured the nation's sentiments.

At the end of the war, Cohan was in an enviable position. One of the best known men in America, he owned several Broadway theaters, had companies performing all across the country, and saw his operetta spoof Royal Vagabond (1919) unexpectedly become one of the biggest hits of the year. The dialogue still had a vaudeville ring to it, but with a sophisticated edge that made it "state of the art." He loved to spoof theatrical conventions, as when he had two characters make the following exchange –

(Offstage: sound of galloping horse)
PRINCE: Doesn't that sound like a horseman approaching?
TUTOR: Not exactly. But it's a good effect.

Producers treated actors like cattle, rehearsing them for weeks without pay, subjecting them to exhausting tours, forcing them to work extra unpaid performances during holidays, and firing them without notice. Actors were even expected to provide their own costumes for most productions. Once the war was over, a number of actors banded together to form The Actor's Equity Association. When producers ignored demands for better working conditions, Equity called the first-ever actor's strike in the summer of 1919.

Cohan opposed to the formation of Equity. When Cohan proclaimed that he would quit the theater and run an elevator before giving in to Equity, comedian Eddie Cantor publicly pointed out that that elevator operators in New York City had to belong to a union!

After a month, producers faced losses in the tens of millions. Parner Sam Harris led a delegation of producers that agreed to meet Equity's demands. Actors were jubilant, but the once-beloved Cohan had become one of the most despised men in the theater.

Dismayed that Harris had acquiesced to Equity, Cohan ended their longtime partnership. It was a decision that neither man ever discussed publicly. George M. Cohan and Sam Harris, though no longer partners, remained close friends and (as their wives were sisters) in-laws.

By the 1020's, it was clear that popular tastes were changing. In the cynical postwar Jazz Age, Cohan's optimistic patriotism was seen as quaint, if not downright naive. He continued to announce his "retirement" every few years, but there was always another show to draw him back to Broadway.

As the decade progressed, Cohan kept writing, but his new shows had increasingly brief runs. His mother's death in 1928 seemed to further distance Cohan not only from the theatrical world, but from life in general. George never loved or trusted anyone the way he did his parents and sister. He was never terribly close to his wives or his children -- in adulthood, when George Jr. wanted to see his father, he had to write and ask for an appointment.

A movie, The Phantom President (1933) was the story of a song and dance man who doubles for a lackluster presidential candidate he bears a twin-like resemblance to. Cohan played both roles, using spilt screen technology in several scenes. Despite a score by Richard Rodgers and Lorenz Hart and the best efforts of co-stars Claudette Colbert and Jimmy Durante, The Phantom President was a weak vehicle, but it offers a precious glimpse of him in action. Although his nasal singing sounds harsh, his dancing was still slicK.

He played President Franklin Roosevelt in the musical I'd Rather Be Right (1937), which former partner Sam Harris was producing, This time around, Cohan treated Rodgers and Hart with open contempt.

Roosevelt presented him with a Congressional medal honoring him as the creator of "Over There." But Cohan was hardly anxious to receive it. He had kept Roosevelt waiting for more than a year -- some suggest that FDR's progressive social policies had alienated the increasingly conservative Cohan.

Cohan was understandably shattered when Sam Harris died in 1941. By the time Warner Brothers approached Cohan with plans for a film based on his life, he was living in semi-seclusion, doing everything possible to keep his failing health a private matter. Despite his condition, he took an active role in planning the film, going so far as to submit a full-length screenplay which the studio ignored. Cohan saw Yankee Doodle Dandy become a phenomenal success, hearing wartime audiences cheer for his old songs.

Cohan's widow Agnes lived on for several decades, through 1972. His remaining descendants pretty much avoid publicity.

Cohan was sometimes mistaken for a Jew because of his name. When he once phoned a hotel manager, he refused him a room on the grounds that "we don't accept Jews" Cohan remarked, "It seems we were both mistaken. You thought I was a Jew, and I thought you were a gentleman."









---




Eddie Fisher


http://www.answers.com/topic/eddie-fisher

Skyrocketing to fame after he was "discovered" by Eddie Cantor in 1949, Eddie Fisher replaced Frank Sinatra as the number-one "bobby-soxer" singing idol in the early 1950s. His innocent good looks, strong and straightforward voice, and choice of material made him one of the most popular recording artists of the first half of the decade. From 1950 to 1956 Fisher recorded 35 Top 40 hits, including 19 in the Top Ten and four that reached Number One on the U.S. Hit Parade.

Although Fisher is Jewish, his style has been compared to those of famous Italian tenors and baritones. Fisher's booming voice hardly needed a microphone to carry to the back rows of big theaters, and his early nickname of "Sonny Boy" reflected his fondness for singing in a style reminiscent of Al Jolson. Fisher has been described as having a freewheeling approach and lack of musical of musical discipline that often tested the patience of his accompanists.

According to George Simon in The Best of the Music Makers, "The title of Fisher's biggest hit record, 'Any Time,' reflects rather accurately his unpredictably wandering rhythmic beat that for years musicians tried valiantly to follow as he gaily and unconcernedly created his own time by decimating or elongating musical measures." Although Fisher's rhythm difficulties and his unsubtle singing approach sometimes resulted in unfavorable appraisals by critics, the crooner's deficiencies did not deter millions of fans from buying his records.

One of the most popular male vocalists of the early '50s despite a throwback style that recalled Al Jolson and Tin Pan Alley, Eddie Fisher scored four number one hits between 1952 and 1954 but is probably known best for his celebrity circles -- his wives included Debbie Reynolds, Elizabeth Taylor and Connie Stevens.

Two consecutive million-sellers, 1952's "Any Time" and "Tell Me Why," really made Eddie Fisher's reputation as a major attraction. After one more big hit ("Wish You Were Here") that year, he scored with the biggest year of his career in 1953; both "I'm Walking Behind You" and "Oh! My Pa-Pa" spent many weeks at the top of the charts. Fisher then gained his own top-rated television programs, Coke Time and The Chesterfield Supper Club. His success continued apace in 1954 with "I Need You Now," and he starred in his first movie, Bundle of Joy, in 1956 -- co-billed with his first wife, Debbie Reynolds. His second film, 1960's Butterfield 8, teamed him with Elizabeth Taylor, whom he married soon after. The blitz of media publicity over the woman who lured him away from his wife boosted the public exposure of all three stars. Still, he never entered the Top 40 after 1956.

Fisher, fourth of seven children, was born in Philadelphia, Pennsylvania, the son of Russian-born Jewish immigrants Kate (née Minokur) and Joseph Fisher.[1][2] His father's surname was originally Tisch or Fisch, but was anglicised to Fisher upon entry into the United States.[3] To his family, Fisher was always called "Sonny Boy", a nickname derived from the song of the same name in Al Jolson's film The Singing Fool (1928).

Fisher attended Thomas Junior High School,[5] South Philadelphia High School, and Simon Gratz High School. It was known at an early age that he had talent as a vocalist and he started singing in numerous amateur contests, which he usually won. He made his radio debut on WFIL,[5] a local Philadelphia radio station. He also performed on Arthur Godfrey's Talent Scouts, a popular radio show which later moved to TV. Because he became a local star, Fisher dropped out of high school in the middle of his senior year to pursue his career.

Career
By 1946, Fisher was crooning with the bands of Buddy Morrow and Charlie Ventura. He was heard in 1949 by Eddie Cantor at Grossinger's Resort in the Borscht Belt. After performing on Cantor's radio show he was an instant hit and gained nationwide exposure. He then signed with RCA Victor.

Fisher was drafted into the U.S. Army in 1951, sent to Texas for basic training, and served a year in Korea. From 1952 to 1953, he was the official vocal soloist for The United States Army Band (Pershing's Own) and a tenor section member in the United States Army Band Chorus (an element of Pershing's Own) assigned at Fort Myer in the Washington, D.C. Military District. After his discharge, he became even more popular singing in top nightclubs. He also had a variety television series, Coke Time with Eddie Fisher (NBC) (1953–1957), appeared on Perry Como's show, The Gisele MacKenzie Show, The Chesterfield Supper Club and The George Gobel Show, and starred in another series, The Eddie Fisher Show (NBC) (1957–1959, alternating with Gobel's series).

A pre-Rock and Roll vocalist, Fisher's strong and melodious tenor made him a teen idol and one of the most popular singers of the early 1950s. He had seventeen songs in the Top 10 on the music charts between 1950 and 1956 and thirty-five in the Top 40.

In 1956, Fisher costarred with then-wife Debbie Reynolds in the musical comedy Bundle of Joy. He played a serious role in the 1960 drama Butterfield 8 with second wife Elizabeth Taylor. His best friend was showman and producer Mike Todd, who died in a plane crash in 1958. Fisher's affair and subsequent marriage to Taylor, Todd's widow, caused a show business scandal because he and Reynolds had a very public divorce. It was because of the unfavorable publicity surrounding the affair and divorce that NBC cancelled Fisher's television series in March 1959.

In 1960, he was dropped by RCA Victor and briefly recorded on his own label, Ramrod Records. He later recorded for Dot Records. During this time, he had the first commercial recording of "Sunrise, Sunset" from Fiddler on the Roof. This technically counts as the biggest standard Fisher can claim credit for introducing, although it is rarely associated with him. He also recorded the album Eddie Fisher Today which showed that he had more depth than his singles from earlier years had shown.

The Dot contract was not successful in record sales terms, and he returned to RCA Victor and had a minor single hit in 1966 with the song "Games That Lovers Play" with Nelson Riddle, which became the title of his best selling album. During the time Fisher was the most popular singer in America[citation needed], in the mid 1950s, singles, rather than albums, were the primary recording medium. His last album for RCA was an Al Jolson tribute, You Ain't Heard Nothin' Yet. In 1983 he attempted a comeback tour but this was not a success. Eddie Fisher's last released album was recorded around 1984 on the Bainbridge record label. Fisher tried to stop the album from being released, but it turned up as After All. The album was produced by William J. O'Malley and arranged by Angelo DiPippo. DiPippo worked with Eddie countless hours to better his vocals but it became useless. His final recordings (never released) were made in 1995 with the London Philharmonic Orchestra. According to arranger-conductor Vincent Falcone in his 2005 autobiography, 'Frankly: Just Between Us', these tracks were "...the best singing of his life." Fisher performed in top concert halls all over the United States and headlined in major Las Vegas showrooms. He headlined at the Palace Theater in New York City as well as London's Palladium.

Fisher has two stars on the Hollywood Walk of Fame, one for recording, at 6241 Hollywood Boulevard, and one for television, at 1724 Vine Street.

Personal life
Fisher had five marriages and four children:

Debbie Reynolds (1955–1959; divorced)
Carrie Fisher (born 1956)
Todd Fisher (born 1958)
Elizabeth Taylor (1959–1964; divorced)
Connie Stevens (1967–1969; divorced)
Joely Fisher (born 1967)
Tricia Leigh Fisher (born 1968)
Terry Richard (1975–1976; divorced)
Betty Lin (1993–2001; she predeceased him)

In 1981, Fisher wrote an autobiography, Eddie: My Life, My Loves (ISBN 0-06-014907-8). He wrote another autobiography in 1999 titled Been There, Done That (ISBN 0-312-20972-X). The later book devotes little space to Fisher's singing career, but recycled the material of his first book and added many new sexual details that were too strong to publish before. His daughter Carrie declared, upon publication: "That's it. I'm having my DNA fumigated."

When interviewed, Debbie Reynolds will characteristically say that she could understand being dumped "for the world's most beautiful woman (Taylor)", previously a close friend. Taylor and Reynolds later resumed their friendship, and mocked Fisher in their TV movie These Old Broads, wherein their characters ridiculed the ex-husband they shared, named "Freddie."

Selected discography

Singles:
"Wish You Were Here," 1952."I'm Walking Behind You," RCA-Victor, 1953."Oh, My Papa," RCA-Victor, 1953."I Need You Now," RCA-Victor, 1954."Dungaree Doll," RCA-Victor, 1955."Heart," RCA-Victor, 1955."Games That Lovers Play," RCA-Victor, 1966.









---




Andy Griffith Show

The Andy Griffith Show is an American television series that aired from 1960 to 1968. The show centered around Andy Taylor, (played by Andy Griffith), a rural sheriff who rarely carried a gun. The series was an immediate hit with its audience, and still enjoys success in syndication. Its whistled theme song, "The Fishin' Hole", by Earle Hagen (the show's music coordinator as well as the whistler) and Herbert Spencer, with unsung lyrics by Everett Sloane) is familiar to the public.

One of the show's dynamics was the relationship between Andy Taylor, the sensible, easygoing sheriff and Barney Fife, his high-strung, overzealous deputy. From a comedic aspect, Andy usually served as the straight man to Barney's over-the-top antics. Andy's laidback law enforcement style was more in step with the sleepy town he safeguarded than Barney's, whose "by-the-book" attitude towards law and order generally served to cause more problems than it resolved. Andy rarely wore his full uniform and almost never carried a weapon, as opposed to Barney, who was never seen on duty without his cap and tie and was so anxious to use his gun, he had to carry the sole bullet Andy allowed him in his shirt pocket for safety.

The first half of season 6, when they first went to color, Don Knotts was gone and Jack Burns came in as Warren Ferguson. There was clearly turnoil on the set in those days. Knotts had signed a contract for several comedy movies he would star in, because Andy had told him the he (Andy) would do the show for only 5 years. But then Andy changed his mind, rather suddenly it seems, and Knotts was already working his new contract.

When Knotts left, Jack Burns became the ill-fated replacemnt. Apparently for some measure of reality, they thought Andy still had to have a deputy, or else he'd be the only law officer in the county (they're never that clear about the county: Mt. Pilot is supposed to be either 12 or 30 miles away, but some county offices are in much smaller Mayberry, and the several hours' journey to where the Darlings and Ernest T. Bass live is under Andy's jurisdiction).

Anyway, when Jack Burns was signed, they told him he was a whole new character and not a reincarnation of Barney Fife to be written for as if he were Don Knotts. That was a lie, as Andy has admitted. Here was Barney in a different body with "huh?--huh?" at the end of his staccato lines, trying to enforce the letter of the law rather than the spirit and with similar elementary idiosyncracies. Goober had replaced Gomer with a comparable character, but they were more in the supporting line, while Barney was the main comedy course.

Griffith: "We went to San Francisco and met this very funny stand-up comedian. We thought his performance was fine and decided to make him Floyd's nephew on the show. So we put him on--and we said we were not replacing Don [Knotts]--but we were replacing Don and we were giving him Don Knotts material--and it didn't work. I can't begin to explain how uncomfortable we were. I get strung out pretty easily, and if I'm uncomfortable I'm hell to be around, and I was very uncomfortable. Just before Christmas we decided we had to let him go and pay him off for the rest of the year. I didn't want the office to tell him then, but they told him before Christmas. I saw Jack some years later and he said he was bitter for a while, but he got over it. "

There was tension because everyone knew Burns and Knotts were quite different in what they do. Burns was bitter about the whole situation. But it was about this time that Jack Dodson made his guest appearance as the insurance agent handling Aunt Bee's lost brooch claim, and this opened the door for him as the new character Howard Sprague; a public official, but obviously no 'new Barney,' as his personality and idiosyncracies were very different. All this probably set the tone for Andy and his character being sour and sick of the whole thing till series' end.

http://www.henrybwalthall.com/JackBurnsBiographyPartOne.html
• http://en.wikipedia.org/wiki/The_Andy_Griffith_Show








---
King Edward & Wallis Simpson
Edward VIII (Edward Albert Christian George Andrew Patrick David; later The Duke of Windsor; 23 June 1894 – 28 May 1972) was King of the United Kingdom and the Dominions of the British Commonwealth, and Emperor of India, from 20 January to 11 December 1936.
Only months into his reign, he caused a constitutional crisis by proposing marriage to the American socialite Wallis Simpson, who had divorced her first husband and was seeking a divorce from her second. Rather than end his relationship with Mrs. Simpson, Edward abdicated. He was succeeded by his younger brother Albert, who chose the regnal name George VI. With a reign of 326 days, Edward was one of the shortest-reigning monarchs in British and Commonwealth history. He was never crowned.
After his abdication, he was created Duke of Windsor. He married Wallis Simpson in France on 3 June 1937, after her second divorce became final. Later that year, the couple toured Germany. During the Second World War, he was at first stationed with the British Military Mission to France but, after private accusations that he held Nazi sympathies, moved to the Bahamas after his appointment as Governor. After the war, he was never given another official appointment and spent the remainder of his life in retirement in France.
After their marriage, the Windsors toured Nazi Germany and were received by Adolf Hitler, a trip which further eroded popular support. When war erupted between England and Germany in 1939, the duke was immediately recalled to England and given a military commission in France. When the German army invaded France, they fled to neutral Spain and then Portugal. Winston Churchill, now prime minister, offered the duke a government post, but he dallied before accepting it in an attempt to win the "HRH" title for his wife. British leaders were concerned that the couple's previous display of Nazi sympathy made them vulnerable. The Germans, it was feared, could abduct the Windsors and re-install the duke on the British throne after a successful invasion of the British Isles.
The duke was safely ensconced as governor of the Bahamas in August 1940. He and the duchess lived there for five years and very much disliked the heat. Her only consolation was the occasional shopping trip to New York or Palm Beach. In 1941, it was reported that she and the duke visited a Canadian ranch with 146 pieces of luggage. This incident sparked a period of negative publicity about the Duchess of Windsor and her extravagant tastes in clothes and jewelry.
A Life of Glamorous Leisure
Following the war's end, the Windsors lived primarily in France, eventually settling several miles outside of Paris at a home on the Bois de Boulogne. They each penned autobiographies in the 1950s (hers was titled The Heart Has Its Reasons) and she regularly appeared on lists of the world's best-dressed women. By the late 1960s, the duke had reconciled somewhat with his family. In 1967, he and the duchess returned to England for a formal visit. The duke had been a lifelong smoker, and was diagnosed with throat cancer in 1971. Queen Elizabeth visited the couple at their Paris home. The duke died on May 28, 1972 and his widow was invited to stay at Buckingham Palace for the funeral. A telephoto lens captured her watching the annual Trooping of the Colors, always held on the queen's birthday, from a window at the palace. She looked utterly bereft.
Back in Paris, the duchess rarely entertained after her husband's death. She began to suffer increasing health problems, including coronary artery disease. In the 1980s she lived in near-total seclusion, rarely seen in public. She died at home in Paris on April 24, 1986. The bulk of her estate was left to the Pasteur Institute, a leader in HIV/AIDS research. She is buried alongside the duke in the royal mausoleum at Frogmore.
---
Was Author of Peter Pan a Pedophile?
Sir James Matthew Barrie
J. M. Barrie was born May 9, 1860 in Kirriemuir, Scotland. Margaret Oglivy raised him in the midst of 10 other children, the mother he adored.
When Barrie was six, his older brother David (the mother's favorite) died and Barrie spent the rest of his childhood trying to replace his brother for his mourning mother. This attempt to replace a forever-young David would take it's toll on the rest of Barrie's adult life and his writing. Barrie could be described as small and shy. As a man, he stood little more than five feet, was quiet and awkward around women.
Fortunately for Barrie, he was a success as a writer. He got his start as a writer for the Nottingham Journal after graduating from Edinburgh University. Before this time though, Barrie had already been captivated by the theater and after having short stories and several successful books published, Barrie finally wrote his first play--Ibsens's Ghost (1891). He followed this with Walker, London, during the production of which he met his future wife--the actress--Mary Ansell. The marriage was not a success, but in it's duration Barrie wrote his most successful plays, including The Little Minister (1897), The Admirable Crichton (1902), and his most memorable work--Peter Pan (1904).
Barrie wrote Peter Pan as a tribute to the sons of his friends Sylvia and Arthur Llewelyn Davies. It was distinctly different from the previous, more mature material that Barrie had written and would write. Peter Pan was a fantasy, but not any mere fairy tale. Like Peter Pan himself, Barrie was a boy who refused to grow up. Barrie took such elements of life as his awkwardness with, yet dependence opon women, his love of children, and his own longing for childhood and shaped them into one of the best-loved stories of all time.
Peter Pan was Barrie's greatest success. In 1912, he turned it into a book, called "Peter and Wendy". However, after writing Peter Pan, he went on to write more plays. What Every Woman Knows (1906), Dear Brutus (1917), and Mary Rose (1920) were all very well received plays.
On a more personal note, Barrie's wife--Mary Ansell--divorced him in 1908. That same year, Arthur Llewelyn Davies died of cancer and in 1910 his wife Sylvia followed him, with the same disease. Barrie was left to take care of all five Davies boys, whom he treated like him own children. In later years, Barrie was made a baronet and received several honorary degrees on account of his literary figure. He died in 1937 after a long life.
---
The Origins of Peter Pan

J M Barrie married an actress in 1894, and when they were on honeymoon in Switzerland they bought a St Bernard puppy. This dog was to become an important part of a future play.

Among his ever widening circle of friends, Barrie got to know a Mr & Mrs Llewelyn-Davies. They had a family of boys and Barrie, his wife and their large dog would meet them out for a walk with their nurse in Kensington Gardens. James would play with them and invent stories which they loved. These children inspired him to write about castaways and then came "Peter Pan". This play was put on by an American producer in London on December 29th 1904. An actor took the part of the dog! It was a great success. Barrie was becoming rich and famous and received many honours. "Peter Pan" is the most famous of his plays and Barrie gave the perpetual rights of it to the Great Ormond Street Hospital for Sick Children.








---
[From http://www.straightdope.com/columns/041119.html ]
Was The Author Of Peter Pan A Pedophile?

Barrie was later rumored to be impotent, but it seems more accurate to say he had little interest in sex. At any rate he never succeeded in getting Mary pregnant, though she was anxious for a child. Barrie too loved children--he just preferred to let other people make them. He and Mary began taking walks with their dog in Kensington Gardens, a park near their London home. He became a favorite of the children brought there by their nannies, entertaining them with his antics and stories about pirates and fairies. The children Barrie was fondest of were the young sons of Arthur and Sylvia Llewelyn Davies. He was an aspiring lawyer; she was beautiful and sweet. Barrie charmed Sylvia as he had charmed her kids and soon insinuated himself into the household, visiting frequently and joining the family on holidays, somewhat to the distress of Mary and Arthur. Ever in need of material, Barrie began incorporating his experiences with the Llewelyn Davieses into his work. The pirate stories he told the boys--eventually there were five: George, Jack, Peter, Michael, and Nico--became the basis for his 1904 play Peter Pan, or The Boy Who Would Not Grow Up. It was unlike anything ever seen on the stage, among other things requiring an elaborate apparatus to permit the players to fly, but proved a huge hit in Britain and the U.S.

When Arthur and Sylvia died within a few years of each other, the playwright found Sylvia's handwritten will in which she requested that Jenny, the sister of the boys' nanny, help look after them. In copying the document for Sylvia's mother Barrie mistranscribed "Jenny" as "Jimmy," i.e., himself--unintentionally, according to Birkin. But even if he did it on purpose, family and friends agree he alone had the resources to take care of the boys, and he became their guardian. Judging from their correspondence, Barrie was part father to the five, part mother, and part . . . well, lover gives the wrong idea, but he was emotionally attached to a degree some found morbid, to George and Michael particularly. George was killed during World War I, however, and Michael drowned at Oxford in 1921. (Some suspected it was suicide.) Peter, who became a successful publisher, threw himself under a London subway train in 1960. You may think: these were troubled folk. Maybe so, but no evidence survives to pin the blame on Barrie, who died in 1937. As for pedophilia, Nico offered what, barring some shocking revelation, will surely stand as the last word on Barrie's sexuality, or lack of it: "He was an innocent--which is why he could write Peter Pan."








---

[ http://www.kirjasto.sci.fi/wscott.htm ]


Sir
Walter Scott (1771-1832)

Inspired By A Video Rental
Writer and poet, a born storyteller and master of dialogue, one of the greatest historical novelists, whose favorite subject was his native Scotland. Scott wrote twenty-seven historical novels. His influence is seen among others in the works of James Fenimore Cooper, Alexandre Dumas, and Aleksandr Pushkin.

"Love rules the court, the camp, the grove, And men below, and saints above; For love is heaven, and heaven is love." (from The Lay of the Last Minstrel, 1805) Walter Scott was born in Edinburgh, as the son of a solicitor Walter Scott and Anne, a daughter of professor of medicine. An early illness - polio - left him lame in the right leg. Six of his 11 brothers and sisters died in infancy. However, Scott grew up to be a man over six feet and great physical endurance.

Scott's interest in the old Border tales and ballads had early been awakened, and he devoted much of his leisure to the exploration of the Border country. His early years Scott spent in Sandy-Know, in the residence of his paternal grandfather. There his grandmother told him tales of old heroes. At the age of eight he returned to Edinburgh. He attended Edinburgh High School (1779-1783) and studied at Edinburgh University arts and law (1783-86, 1789-92). At the age of sixteen he had already started to collect old ballads and later translated into English Gottfried Bürger's ballads 'The Wild Huntsman' and 'Lenore' and 'Goetz of Berlichingen' (1799) from Johann Wolfgang von Goethe's play. Scott was apprenticed to his father in 1786 and in 1792 he was called to the bar. In 1799 he was appointed sheriff depute of the county of Selkirk. After an unsuccessful love affair with Williamina Belsches of Fettercairn - she married Sir William Forbes - Scott married in 1797 Margaret Charlotte Charpentier (or Charpenter), daughter of Jean Charpentier of Lyon in France. They had five children.

In 1802-03 appeared Scott's first major work, MINSTRELSY OF THE SCOTTISH BORDER. As a poet Scott rose into fame with the publication of THE LAY OF THE LAST MINSTREL (1805) about an old border country legend. He had burned its first version, when his friends did not like it. Scott returned to the poem in 1802, when a horse had kicked him and he spent three days in bed. The Lay of the Last Minstrel became a huge success and made him the most popular author of the day. It was followed by MARMION (1808), a historical romance in tetrameter, set in 1513, and concerning the attempts of Lord Marmion to marry the rich Lady Clare. In 1810 appeared THE LADY IN THE LAKE and in 1813 ROKEBY. Scott's last major poem, THE LORD OF THE ISLES, was published in 1815. Later Thomas Love Peacock (1785-1866) ridiculed in 'The Four Ages of Poetry' Scott, Byron, and the Romantic "Lake Poets" Wordsworth and Coleridge: "While the historian and the philosopher are advancing in, and accelerating, the progress of knowledge, the poet is wallowing in the rubbish of departed ignorance, and raking up the ashes of dead savages to find gewgaws and rattles for the grown babies of the age. Mr.Scott digs up the poachers and cattle-stealers of the ancient border. Lord Byron cruizes for thieves and pirates on the shores of Morea and among the Greek Islands. Mr. Southey wades through ponderous volumes of travels and old chronicles..." Verses from The Lady of the Lake, including 'Hail to the Chief who in triumph advances!" were put to music by James Sanderson (1769-1841) and became the march traditionally played to honor the president of the United States.

Soldier, rest! thy warfare o'er, Sleep the sleep that knows not breaking, Dream of battled fields no more, Days of danger, nights of waking. (from The Lady of the Lake, 1810)

In 1806 Scott became clerk to the Court of Session in Edinburgh - this work took only a few hours daily and half of the year he was free. His long holidays Scott spent at Ashestiel, situated on the Tweed River. To increase his income he started a printing and publishing business with his friend James Ballantyne. The firm had in the 1810s financial difficulties, and Scott spent his time in immense labours for his publishers, much of it hack editorial work. Scott also expanded during these years his Abbotsford estate, but it was not until 1826 when the final crash came. He accepted all Ballantyne's debts and decided to pay them off with his writings - the sum was £130,000 (millions today). In his diary he wrote: "I am become a sort of writing automaton, and truly the joints of my knees, especially the left, are so stiff and painful in rising and sitting down, that I can hardly help screaming - I that was so robust and active..." Difficulties lasted the best of Scott's writing career. To be more productive he used a massive desk with two desktops and kept two projects going at a time. Although Scott's books were sold at prices as high as 31s. 6d., they found much new middle-class readers, and there was no interest in lowering the prices. In comparison, low-cost books, booklets, were offered for the "white-collar" workers at sixpence apiece, and paperbound books were sold for 5 shillings.

In the 1810s Scott published several novels anonymously or under the pseudonym Jebediah Cleisbotham or 'Author of Waverley.' From this period date such works as WAVERLEY (1814), dealing with the rebellion of 1745, which attempted to restore a Scottish family to the British throne. The book set the classic pattern of the historical novel. It had a hero, whose loyalty is split between two rulers and two ways of life. Scott continued with GUY MANNERING (1815) and TALES OF MY LANDLORD (1816), consisting of The Black Dwarf and Old Mortality. ROB ROY (1817) was a portrait of one of Scotland's greatest heroes - the novel sold out its edition of 10 000 copies in two weeks. THE HEART OF MIDLOTHIAN (1818) was a story of Jeanie Deans's journey to London to appeal on behalf of her sister who has been wrongfully charged with child murder. THE BRIDE OF LAMMERMOOR (1819), was a novel of loss, love and vengeance, a venture into the gothic genre. In A LEGEND OF MONTROSE (1819) Scott drew a picture of the campaigns of 1644. IVANHOE (1819) was set in the reign of Richard I and depicted the rivalry between the King and his wicked brother John (King 1199-1216).

Ivanhoe, a tale of chivalry, was set in the age of Richard the Lion-Hearted. Wilfred of Ivanhoe loves Rowena, but his father plans marry her to Athelstane of Coningsburgh. Ivanhoe serves with King Richard in the crusades. King's brother John tries to usurp the throne with the help of Norman barons. Richard appears in disguise at the tournament at Ashby de la Zouch, where he helps Ivanhoe to defeat John's knights. At the tournament Sir Brian falls in love with Rebecca, a beautiful Jewess. She is taken captive with her father Isaac, Rowena, Ivanhoe, and Cedric by the Norman barons and imprisoned in Torquilstone. The King and his band of outlaws, among them Robin Hood, release the prisoners. Rebecca is carried off by Bois-Guilbert and charged of witchcraft. Ivanhoe appears as her champion, opposing Bois-Guilbert, who dies. Rebecca, seeing Ivanhoe's love for Rowena, leaves England with her father. - Michael Ragussis has argued that Scott's Isaac the Jew and his daughter Rebecca restaged England's medieval persecution of Jews and criticized the barbarity of persecution and forced conversion. In the story Rebecca is a healer and a voice of moderation between Saxon knights and Normans.

In the 1820s appeared KENILWORTH (1821), THE FORTUNES OF NIGEL (1822), PEVERIL OF THE PEAK (1823), QUENTIN DURWARD (1823), THE TALISMAN (1825), WOODSTOCK (1826), THE SURGEON'S DAUGHTER (1827), ANNE OF GEIERSTEIN (1829). After the financial crash of 1825-26 the author's anonymity was destroyed, and he was exposed to the general public as Sir Walter Scott. He had at least five pen names, including Jebediah Cleisbotham, Crystal Croftangry, Malachi Malagrowther, Lawrence Templeton, and Captain Clutterbuck. According to an anecdote, when mortally sick, Beethoven (1770-1827) hurled away Scott's novel with the cry: "Why, the fellow writes for money".

Scott's historical novels fall into three groups; those set in the background of Scottish history, from Waverly to A Legend of Montrose; a group which takes up themes from the Middle Ages and Reformation times, from Ivanhoe to Talisman, and his remaining books, from Woodstock onwards. Scott's dramatic work include HALIDON HILL (1922), MACDUFF'S CROSS (1823), THE DOOM OF DEVORGOIL, A MELODRAMA (1830), and AUCHINDRANE (1830), which was founded on the case of Mure of Auchindrane in Pitcairn's Ancient Criminal Trials.

In 1820 Scott was created a baronet. A few years later he founded the Bannatyne Club, which published old Scottish documents. Scott visited France in 1826 to collect material for his LIFE OF NAPOLEON, which was published in 9 volumes in 1827. A few years earlier Scott had started to keep his Journal, recording in undiscourageable spirit his deteriorating health and other misfortunes. His wife, Lady Scott, died in 1826, and the author himself had a stroke in 1830. Next year Scott sailed to Italy. In Malta he wrote one novel and a short story, and in Naples he collected old songs and ballads. After return to England in 1832, he died on September 21. Scott was buried beside his ancestors in Dryburgh Abbey. From the profits of his writings all his debts were ultimately paid.

Come fill up my cup, come fill up my can, Come saddle your horses, and call up your men; Come open the West Port, and let me gang free, And it's room for the bonnets of Bonny Dundee! (from The Doom of Devorgoil, 1830)

Scott's influence as a novelist was profound. He established the form of the historical novel and his work inspired such writers as Bulwer-Lytton, G. Eliot, and the Brontës. In the United States the scholar W.E.B. Du Bois (1868-1963) said in his address in 1926, that he learned most of Scott's 'Lady of the Lake' by heart at school, adding: "In after life once it was my privilege to see the lake." In the 1930s European Marxist critics found Scott again, and interpreted his novels in term of historicism. The most prominent admirer of Scott was the Hungarian philosopher and aesthetician György Lucács. Modernist taste classified Scott to the category of the subliterary or juvenile. "It is impossible to believe that Scott lives anywhere today," wrote Ford Madox Ford in his The March of Literature (1938), "he might perhaps in a doctor's dining-room in Marseilles or Tarascon, in a child's nursery in Buenos Aires, or a housemaid's pantry on Boston Hill. Or, of course, in all the sancta sanctorum of all the professors of the universities of Goettingen and Jena. But his guilelessness is such that it is impossible to believe that any grown man could take seriously the adventures of Ivanhoe or Rob Roy." However, there is also a significant revival of critical and scholarly interest on Scott.

For further reading: Memoirs of the Life of Sir Walter Scott, Bart. by J.G. Lockhart (1837-38, 7 vols.); Sir Walter Scott by J. Buchan (1932); Scott: The Scott and Scotland by E. Muir (1936); A történelmi regény by Georg Lucács (1937 - trans. as The Historical Novel); Bibliography of Sir Walter Scott, 1797-1940 by James C. Corson (1943); The Waverly Novels by J.T. Hillhouse (1968); Walter Scott: Modern Judgements, ed. by D.D. Devlin (1968); Critical Heritage, ed. by J.O. Hayden (1970); Sir Walter Scott: the Great Unknown by Edgar Johnson (1970, 2 vols.); The Author of Waverly by D.D. Devlin (1971); Walter Scott by T. Crawford (1982); Scott and his Influence by J.H. Alexander and D. Hewitt (1983); Walter Scott: The Making of the Novelist by Jane Millgate (1984); Secret Leaves: The Novels of Walter Scott by Judith Wilt (1985); Modern Romance and Transformation of the Novel by Ian Duncan (1992); 'Writing Nationalist History' by Micheal Ragussis, in English Literary History 60:1, Spring (1993); The Life of Walter Scott by John Sutherland (1995); Critical Essays on Sir Walter Scott, ed. by Harry E. Shaw (1996) - See also: Prosper Merimée, J.F. Cooper, Washington Irving - Suomessa Scottin teosten vaikutus näkyy mm. Frederika Runebergin ja Zachris Topeliuksen historiallisissa romaaneissa.








---
Max Schmeling

Max Schmeling with Joe Louis in 1971.


Max Schmeling was a shy man of humble origins who came of age in the glitter of Berlin's 'Golden Twenties'. As the heavyweight champion of Europe, his career inevitably brought him to America. Arriving in New York he won the world title in 1930. He defended it the next year but lost it to Jack Sharkey in '32 in a blatantly unfair decision. Four years later, he was imported as a sacrificial lamb for the invincible Joe Louis. Although a 10-1 underdog, Max Schmeling scored what some consider the upset of the century.

Joe Louis won the rematch on 22 June, 1938. The fight was portrayed as the battle of the Aryan versus the Black by propagandists.

In a 1975 interview, Schmeling recalled the defeat: "Looking back, I'm almost happy I lost that fight. Just imagine if I would have come back to Germany with a victory. I had nothing to do with the Nazis, but they would have given me a medal. After the war I might have been considered a war criminal."

In 1932, Max Schmeling married a blond, beautiful movie star, Anny Ondra, and the two became Germany's most glamorous couple and had a very happy marriage until Ondra's death in 1987.

In November 1938, during the Krystallnacht, Schmeling hid the two teenage sons of a Jewish friend. Schmeling vigorously refused to join the Nazi party and, over Goebbels' personal protest, he refused to stop associating with German Jews or to fire his American Jewish manager.

Hitler never forgave Schmeling for refusing to join the Nazi party, so he had him drafted into the Paratroops and sent him on suicide missions.

At the war's end he was interned briefly, still recovering from injuries sustained in the war. Afterwards, he frequently visited American troops, giving away signed photos and taking pictures with the American soldiers.

After the war, Schmeling was nearly destitute and fought five more times for the money. He retired after a 10-round loss to Walter Neusel in 1948 at 43 with a record of 56-10-4 with 39 knockouts.

Schmeling used the money from the bouts to buy the license to the Coca-Cola franchise in Germany and grew wealthy in the postwar era. He also marketed his name, retaining his huge popularity in Germany despite his problems with the Nazis.

Schmeling and Joe Louis became friends following a 1954 meeting on the U.S. television program This Is Your Life. Schmeling and Louis met 12 times afterward as friends, and he helped to pay the impoverished Louis' medical bills. He was one of the pallbearers at Louis's funeral in 1981, which he paid for.

In his final years, Schmeling spent three or four hours a day watching television in his home in Hollenstedt. He remained married to Ondra for 54 years until she died in 1987. The two, who met on the set of a film in which Schmeling appeared, married in 1932. The couple had no children. Schmeling died on February 2, 2005, at age 99 at his home.

"I had a happy marriage and a nice wife," Schmeling said in 1985. "I accomplished everything you can. What more can you want?"








---
WALTER
P. CHRYSLER


• Walter Chrysler was a member of the Masonic order, in which he took the Scottish-Rite degrees up to and including the thirty-second, belonging to the consistory at Salina, Kansas. He was also a member of Isis Temple, Ancient Arabic Order of Nobles of the Mystic Shrine, at Salina. The Woodmen of the World also claim his membership. (Henry Ford was also a Mason, 33°). http://www.rootsweb.com/~iafayett/fchrys.htm



Some info from http://www3.sympatico.ca/skpowell/wpc.htm
Walter Percy Chrysler was born on April 2, 1875, in Wamego, Kansas. His father worked for the railroad industry as an engineer. Walter became a machinist's apprentice at the Union Pacific Railroad. His reputation for proficiency became widely known, and many railroad companies sought to have him in their ranks.

He worked for different railroad companies. General Motors noticed him, and hired him in 1911 to organize their failing Buick division. He was made President and General Manager of Buick in 1916. His salary went from $50,000 a year to $500,000 a year. After he got Buick back in shape, he did the same with Willys in 1920, at 1 million dollars per year. He took over production at Maxwell, which he eventually bought and turned it into Chrysler Corporation in 1925. He designed the car that would become the new Maxwell Chrysler Six. The new model first appeared as a prototype late in 1923. It was a truly advanced automobile with a high compression engine and four wheel hydraulic brakes.

Chrysler took the car to display at the 1924 New York Auto Show to see if their was public interest for his automobile. But the prototypes could not be shown because they were not in production, and therefore not eligible for the show.

So he rented the lobby of the The Hotel Commodore, where the Auto Show was headquartered, and displayed the prototypes of the Chrysler Six. Anyone leaving or entering the Hotel had to pass right by the cars. It was a giant success.

"Maxwell" Becomes "Chrysler"

On June 6, 1925, the Chrysler Corporation was incorporated with Walter P. Chrysler as the President and Chairman of the Board. By the end of 1925, the Chrysler Corporation recorded a profit of seventeen million dollars. The company was now a major player among the top ten automakers of the day.

1928 was an eventful year for Chrysler. In June the the Plymouth was introduced. In July it purchaced the Dodge Brothers Corporation. Finally, in August another new line of cars were announced with the introduction of the DeSoto. The acquisition of Dodge Brothers was an important step in Chrysler's growth. Dodge had an impressive dealer network as well as foundries and tool-making shops. Chrysler now had a car to compete in each price range.

The Chrysler Corporation would fare well over the coming years of the Great Depression while many other companies would fall into nonexistence. Chrysler accomplished this by cutting prices of his cars -- but not at a loss. He also kept up research and development when others avoided this during these lean times.
The Chrysler Building

In 1928, Walter Chrysler was one of the wealthiest men in the automotive industry. The other main players in the auto industry had office buildings in New York City. He purchased real estate on Lexington Avenue between 42nd Street and 43rd Street in midtown Manhattan. He worked with architect William Van Alan on his new "Chrysler" building. It would have seventy-seven stories and be 1048 feet in height. When it opened to the public on May 27, 1930, at 405 Lexington Avenue, the Chrysler Building was the tallest building in the world. This only lasted for several months until the Empire State Building was completed, 1250 feet compared to only 1048 for the Chrysler Building.

Walter Chrysler had become a true car mogul. His remarkably prominent efforts were recognized by Time magazine when they named him the Man of the Year for 1928. He remained the President of Chrysler until 1935. Mr. Chrysler would remain the Chairman of the Board of Directors, as he had since 1925, until his death on August 18, 1940. Walter Chrysler was a genuine innovator in the automotive world.








---
Werner von Braun

(March 23, 1912 – June 16, 1977) was one of the leading figures in the development of rocket technology in Germany and the United States.

Originally a German scientist leading Nazi Germany's rocket program before and during the Second World War, he entered the United States at the end of the war through the then-secret Operation Paperclip.

He became a naturalized U.S. citizen and worked on the American ICBM program before joining NASA. Still a controversial figure, thanks to his involvement in the Nazi war effort, he is generally regarded as the father of the United States space program.

When the first V-2 hit London von Braun remarked to his colleagues, "The rocket worked perfectly except for landing on the wrong planet."

Von Braun was arrested and imprisoned for two weeks at a Gestapo cell in Stettin (now Szczecin, Poland), charged with crimes against the state by Himmler. He was overheard at a party talking about his plans for after the war, after Germany's defeat. The conversation was a discussion in how the project could continue in working towards von Braun's dream of space travel and building rockets, which would go into Earth's orbit, and perhaps go to the Moon. His crime was seen as treasonous, indulging in frivolous dreams when his duty was to supply rockets for the Nazi war machine.

Dornberger, head of the rocket program, and Albert Speer, Reichsminister for Munitions and War Production, convinced Hitler to release von Braun so that the V-2 program could continue. It is otherwise likely that von Braun would have been executed. After his arrest and release, Hitler awarded von Braun with Germany's highest civilian decoration, for his services to the Reich.

On arriving back at Peenemunde, von Braun immediately assembled his planning staff and asked them to decide how and to whom they should surrender. In January 1945, the Russian guns could be heard from Peenemunde. Most of the scientists were frightened of the Russians, they felt the French would treat them like slaves, and the British did not have enough money to afford a rocket program. That left the Americans. After stealing a train with forged papers, von Braun led 500 people through war-torn Germany to surrender to the Americans. The SS were issued orders to kill the German engineers, who hid their notes in a mine shaft and evaded their own army while searching for the Americans.

The day after the announcement of Hitler's death, the team found an American private and surrendered to him. He had achieved his goal in reaching the relative safety of the US army. Realizing the importance of these engineers, the Americans immediately went to Peenemunde and Nordhausen and captured all of the remaining V-2's and V-2 parts, then destroyed both places with explosives. The Americans brought over 300 train car loads of spare V-2 parts to the United States. Much of von Braun's production team was captured by the Russians.

The Russians, Americans and the British knew of the V2 rockets, and how important it was to obtain the German scientists, and as much of the new technology as possible. The Nazis also realized that this technology was important and considered it dangerous if it fell into the hands of the Allies. The SS were issued orders to kill the German scientists and engineers. The race was on.

The US army then transferred all the German rocket scientists to Fort Bliss in Texas, USA. They intended to learn all they could about this new technology from the Germans. They could not leave Fort Bliss without a military escort.

During this time, von Braun mailed a marriage proposal to 18-year old Maria von Quirstorp. On March 1, 1947, having received permission to go back to Germany, marry and return with his bride, he married her in a Lutheran church in Landshut, Germany. In December 1948, his first daughter, Iris was born at Fort Bliss Army Hospital.

The Germans would teach the Americans all about the V2 rocket, and in the years following the war would launch over 70 V2's at the White Sands Proving Grounds in New Mexico. These tests would be a prelude to a new range of missiles that would be designed and built for a new enemy, the Russians.

In 1950, von Braun and his team were transferred to Huntsville, Alabama his home for the next twenty years. In 1952 von Braun published his concept of a space-station in a Collier's Weekly magazine series of articles entitled Man Will Conquer Space Soon. These articles were illustrated by the space artist Chesley Bonestell and were influential in spreading his ideas. The space-station would have a diameter of 250 feet, orbit at a height of 1075 miles, spin to provide artificial gravity and provide a platform for lunar expeditions. In the hope that its involvement would bring about greater public interest in the future of the space program, von Braun also began working with the Disney studios as a technical director, initially for three television films about space exploration.

Later von Braun's dream of space travel would be realized as The Space Race developed. Von Braun and his team of German scientists would spearhead America's reach for the moon, and a lifelong dream would became a reality.

In 1970, von Braun and his family relocated from Huntsville to Washington, DC when he was assigned the post of NASA's Deputy Associate Administrator for Planning at NASA Headquarters. However, with the winding-down of the Apollo program, von Braun retired from NASA in June 1972, in protest as it was evident that his visions for future US spaceflight projects were different from NASA's. He gave up the ghost in 1977.

Von Braun was featured in many films, including the 1960 "I Aim At The Stars" - a comic suggested the subtitle: "But Sometimes I Hit London".

"Once the rockets are up, who cares where they come down?


That's not my department, says Wernher von Brown"

http://en.wikipedia.org/wiki/Werner_von_Braun

http://communities.anomalies.net/cgi-bin/bbs/ultimatebb.cgi?ubb=get_topic;f=2;t=000021

Amazon Clips, "Wernher von Braun" song parody

www.smh.com.au - Tom Lehrer article








---
Lili Marlene Lyrics
http://en.wikipedia.org/wiki/Lili_Marleen
Written in 1915 during World War I, the poem was published under the title "Das Lied eines jungen Soldaten auf der Wacht" (German for "The Song of a Young Soldier on Watch") in 1937, and was first recorded by Lale Andersen in 1939 under the title "Das Mädchen unter der Laterne" ("The Girl under the Lantern").
Following Nazi occupation of Yugoslavia, from 1941 Radio Belgrade became Soldatensender Belgrad to entertain German armed forces; the song was played frequently and became popular throughout Europe and the Mediterranean among both Axis and Allied troops.
Tommie Connor later wrote English lyrics. It was recorded by Lale Andersen in 1939.
Many Allied soldiers made a point of listening to it at the end of the day. For example, in his memoir Eastern Approaches, Fitzroy Maclean describes the song's effect in the spring of 1942 during the Western Desert Campaign: "Husky, sensuous, nostalgic, sugar-sweet, her voice seemed to reach out to you, as she lingered over the catchy tune, the sickly sentimental words. Belgrade...The continent of Europe seemed a long way away. I wondered when I would see it again and what it would be like by the time we got there."
Underneath the lantern
By the barrack gate,
Darling I remember
The way you used to wait.
T'was there that you whispered tenderly
That you loved me;
You'd always be
My Lili of the lamplight,
My own Lili Marlene.

Time would come for roll call,
Time for us to part,
Darling I'd caress you
And press you to my heart,
And there 'neath that far-off lantern light,
I'd hold you tight,
We'd kiss good night,
My Lili of the lamplight,
My own Lili Marlene.

Orders came for sailing,
Somewhere over there.
All confined to barracks
was more than I could bear.
I knew you were waiting in the street,
I heard your feet
But could not meet
My Lili of the lamplight
my own Lili Marlene.

Resting in our billets
Just behind the lines,
Even tho' we're parted,
Your lips are close to mine.
You wait where that lantern softly gleams,
Your sweet face seems
To haunt my dreams,
My Lili of the Lamplight,
My own Lili Marlene.




---
Long Cool Woman - The Hollies
songfacts.com
Google Results
Saturday night I was downtown
Working for the FBI
Sitting in a nest of bad men
Whiskey bottles piling high

Bootlegging boozer on the west side
Full of people who are doing wrong
Just about to call up the DA man
When I heard this woman singing a song

A pair of 45's made me open my eyes
My temperature started to rise
She was a long cool woman in a black dress
Just a 5-9 beautiful tall
With just one look I was a bad mess
'Cause that long cool woman had it all

I saw her heading to the table
Well a tall walking big black cat
When Charlie said I hope that you're able, boy
Well I'm telling you she knows where it's at
Well then suddenly we heard the sirens
And everybody started to run
Jumping under doors and tables
Well I heard somebody shooting a gun

Well the DA was pumping my left hand
And she was holding my right
Well I told her, "Don't get scared
'Cause you're gonna be spared"
Well I'm gonna be forgiven
If I wanna spend my living
With a long cool woman in a black dress
Just a 5-9 beautiful tall
With just one look I was a bad mess
'Cause that long cool woman had it all
Had it all, had it all, had it all...


[COMMENTS]
This is the only Hollies single without any backing vocals. The reason why Clarke is the only singer on this record is that he didn't intended the song to be released on a Hollies album, but as a record of his own. When the band learned that he intended to do a solo recording, Clarke was issued an ultimatum - he could either remain with The Hollies or pursue a solo career, but not both.
The album was out for a year before this was released as a single. Before the single was released, lead singer Allan Clarke left the group, replaced by Swedish singer Michael Rickfors. After this became a hit in the US, Clarke rethought his solo career and came back. The group released one album with Rickfors, which did not sell well.
The Song is ABOUT: A cop who is working "under cover" at a bar that is selling bootleg (no tax) whiskey. "Just as he was about to call up the "D.A.Man" (District Attorney) he sees this "Long Cool Woman" in a Black Dress singing a song, that makes him think twice about his "Job as a COP", as she Displays a "PAIR OF 45 inch T*TS" and a "Since about herself that "SHE is NO Ordanary chick". This One has got something special, she's "A 5'9" Beautiful Tall","SHE HAD IT ALL"!! His buddies setting with him(Charley)even questions his ability to, Hang With THIS Chick! "With just one look he was a Bad Mess" cause that "Long Cool Woman Had It ALL". ALL of a Sudden with "Guns a Blazin" the Cops bust in and bust the place. By this time he (the undercover cop) has Already Fallen for the girl and as the D.A. (District Attorney) is Shaking his Left hand for a "job well done" HE is holding HER right hand, asuring her that SHE is SAFE with him "I TOLD HER DON'T GET SCARED, CAUSE YOUR GONNA BE SPARED", "I GOTTA BE FORGIVING, IF I WANNA SPEND MY LIVING" with a "Long Cool Woman In A Black Dress",just a 5'9"BeautifulTall,with just one look I was a bad mess, cause that Long Cool Woman Had It ALL!
"Long Cool Woman in a Black Dress" was a song that was written at the last moment, when the Hollies went into the Studio to record an album and needed "ONE MORE SONG" to fill out the Album. They wrote the song in about 30 minutes and it, TURNED OUT TO BE, "ONE OF THE ALL TIME CLASSIC ROCK-N-ROLL SONGS"
---
The Waitresses
"Christmas Wrapping"
How an obscure 80s punk band created a Christmas classic

John Petrick, star-ecentral.com

Struggling post-punk band the Waitresses dragged themselves off the road and into a Manhattan studio to record a Christmas song on a hot August day in 1981. Little did they know they were about to create a classic - a song that would well outlive the band, the 80s and, sadly, the frontwoman who sang it.

"I go back and I try to think of what the original inspiration was. I think it was just very much that for years I hated Christmas," says Hoboken resident Chris Butler, founder of the Waitresses and writer of the bittersweet, cool but sentimental Christmas Wrapping.

The song is as much about a harried lifestyle and trying to make connections as it is about Christmas. He may never have cracked the Top 40. But so what? He's made it to age 56, continues to make music, is a husband and the father of a 6-year-old son.

"Everybody I knew in New York was running around like a bunch of fiends," he says of Christmases back around the time he moved from his native Ohio to New York City and formed the Waitresses. "It wasn't about joy. It was something to cope with."

As talk-sung - almost rapped - by late lead singer Patty Donahue, Butler's song depicts a hard-working single girl who resolves to sit Christmas out one year. This, as she laments her repeated and unsuccessful attempts to reconnect with a guy she met by chance the previous winter. But a twist of fate and a little magical intervention restore our heroine's belief in the Christmas spirit, after all.

Everyone loves happy endings. And while they're the stuff of classic Christmas songs and movies, for the Waitresses they were a little harder to come by.

Their record label had asked each of its punk bands to write a Christmas song for a holiday album. "A Christmas album? On a hipster label? With a bunch of junkies on it? Eurotrash? Come on. Never happened," says Butler, giving the raspberry. "OK, they were not all junkies and Eurotrash. But they were extreme individuals," he says of the label's roster.

The Waitresses were touring clubs and colleges to support their struggling single, I Know What Boys Like, written by Butler and sung by Donahue. "We were like the road hog band," he says. "It was fun. But to think it's not hard work is a myth."

Then again, the band itself was once a myth.

While Butler was a musician playing the Akron area in the late 1970s, he wrote songs for a make-believe side group. "I came up with the name `the Waitresses' because it just sounded kind of New Wavey," he says. "It was all a big joke."

Donahue - the girlfriend of one of Butler's musician friends - sang a few Waitresses songs at Tin Huey shows. "As an encore gag, we would put on T-shirts that said, Waitresses Unite."

But when industry people in New York expressed serious interest in a tape of I Know What Boys Like, Butler quickly cobbled together a formal Waitresses lineup. Donahue was still in Ohio.

A free spirit who was in and out of college when she wasn't working waitress jobs, she decided to come along for the ride. "I gave her my last 50 bucks, put her on the Greyhound bus, she kissed her boyfriend goodbye, and she decided to come to New York."

The Waitresses officially debuted as a real, fully organized band at Little Club 57 at 57 St. Mark's Place on Jan 3, 1981. Months of playing everywhere from there to the Peppermint Lounge on Times Square to colleges - and I Know What Boys Like still wasn't making much of a dent.

They came from the road in August 1981, exhausted, discouraged and not exactly in the Christmas spirit. Butler wrote Christmas Wrapping in about a week, put together from what he calls his "riff pile" - cassettes with bits and pieces of songs he wrote, for a rainy day. Some of the lyrics were written in the cab, en route to the studio. He credits his fellow musicians with adding brilliant flourishes to his basic musical arrangement. And, of course, he credits Donahue - the least experienced band member with the highest visibility.

"This is what she brought to the party: She was very smart. She was very funny. She was a very good actress. Great sense of humor, great timing. This was not the world's greatest vocalist, but she could get inside these lines and act them out, with a cigarette, and be my kind of favourite 1930s tough broad in all those Depression-era movies. Like those great, great characters - Veronica Lake, Myrna Loy, Lauren Bacall. She could do that kind of tough, been-there, done-that, you-can't-fool-me kind of woman."

From the sounds of things, Donahue played as hard as she worked. "She was kind of a party girl," he says. "She liked to have a good time. ... There's a Black Irish, west side of Cleveland, working-class mindset that she was very much a part of. ... She lived hard. She was a rough, tough girl."

Two days of recording, and Christmas Wrapping was in the can. Back out on the road they went, forgetting all about it - until it started getting radio play come Christmas season. It was a weird way to have a hit.

"We had to play the song up until, like, June. And we had to capitalize on it - `Hi, this is our new album. We're the people who did that song back at Christmas,'" he says. "I am an official one-hit wonder. Except I have two half-hits: The Christmas song, and I Know What Boys Like, which never quite broke through but never quite went away."

Though they were seemingly gaining momentum, what happens next isn't quite the magical happy ending of Christmas tales.

"We ran out of gas," he says about working on their next album. "We had a huge deadline. Huge pressure. And she (Donahue) said, `The hell with it'. That's show business. ... Complicated girl. Utterly infuriating. Utterly disappointing. Utterly depressing. I have no idea why it crumbled. But it always seems to crumble. You take a bunch of real cranky, eccentric people, you put them in a van, you deprive them of sleep, you give them bad food, you work their asses off, and sometimes - sometimes - you interject a white powder that makes them even more irritated. And then you wonder why things explode?" he says.

They parted ways. Through the 80s and 90s, Donahue worked for a division of ABC News for a while before working in A&R for a record label, according to Butler. "A person who hated the music business ended up in music publishing?" he says, exasperated.

Then in the mid-90s, this Christmas tale comes to an even less happy ending.

"I found out she was sick through a friend. I immediately called her. We kind of kissed and made up. I asked if there was anything I could do. We had a couple of phone conversations. We joked about maybe doing a reunion Christmas show, thinking maybe if she had something to look forward to, it might be an incentive psychologically for her to get better," he says. "But she didn't make it." Donahue died of lung cancer on Dec. 9, 1996, at age 40.

Through all these years, Butler has remained very much a working musician. And his work with the Waitresses is the gift that keeps on giving. He receives royalties for air play of Christmas Wrapping and for sales of the band's greatest-hits album. In 1998, the Spice Girls covered the song.

"I winced," he says. "The most commercial band of the day covers this 290-year-old song? Talk about a mind (expletive). Is it any good? Probably not. But who cares? They did it, I'm grateful, and it's going to buy my kid the greatest associate's degree money can buy."

Butler has produced for such artists as Joan Osborne and Freedie Johnston. His Hoboken-based record label, Future Fossil Music, has produced such experimental offerings as The Devil Glitch, Butler's 69-minute single that made the 1998 Guinness Book of World Records as World's Longest Pop Song, and The Museum of Me, a collection of new songs recorded on wax cylinders, wire recorders and antique tape machines.

"I seem to find that if I just keep throwing things out there, I may not get a big splash but I get enough return to feel like one or two really smart people get it. And that's enough. I'm not a rich and wealthy person. But I'm OK," he says.

And as for Christmas? Like the music business, he has a bit of a different perspective on it, now. Especially when he's rushing around doing errands and suddenly hears his song on the radio, after all these years.

"Who'd have thunk it? Yeah. Holy cow," he says of its longevity. "Miracles do happen. It's MY Christmas miracle. And it slaps me around and says, `Lighten up. It's Christmas'."
---
LINKS
star-ecentral.com - Info Source
www.hardcafe.co.uk/waitresses - UK Fan site
---
Jazzbeaux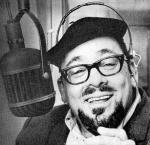 Al "Jazzbeaux" Collins born 1919 at Rochester, N.Y. Theme: "Jazzbeaux's Time of Night", by the Smith Street Society jazz band.

"People ask me what it looks like down in the Grotto, and I haven't really said too much about it lately. At Forty-second and Third. You crawl in on a tube over which there's a burlap sack hanging down. That's to keep the wind and cold air from blowing in.

On the extreme right there's a pit of fluid that's almost like a small lake. And it's a fluid that has not been analyzed as yet. It's thick, and we've plumbed the depths to about two hundred fifty, three hundred feet with lead weights and wire, and there's no sounding the bottom. So that's one of the reasons no people are allowed down in the Grotto. I just can't get insurance for a place like this..."

"...And then there are three lesser caves that you can see in the background if you look straight ahead in the Grotto. Dr. Cherumbolo is the fellow who helps out at the planetarium, and shows people where the different planets are, 'cause he's from there."

For all the sense it's making, it might as well be Mars in 2856. But we're in New York City, in 1982. It's four in the morning; we're tuned to radio station WNEW, & we're listening to Al "Jazzbeaux" Collins.

From 1950 to 1960 people turned to Jazzbeaux for jazz. He was in the clubs, at Birdland and the Hickory House, at the Downbeat office, and on the air laying a taste on the ears (Dizzy Gillespie, Charlie Parker, Sinatra and Shearing and Peggy Lee, and Slim Gaillard.

It all started at the University of Miami in 1941 with the line "What's new at the 'U'? This is Al Collins, and here's Professor Hoo-ha." Subbing for a fellow student, Collins made his radio debut on the college station by accident. No matter. After reading the line, standing for the first time in the studio control room "with the lights, the 'On the air' signals, the engineer, the mike, the drama of the thing hit me with a bursting brilliance. And I said to myself, 'Hey. Whew! What a scene. I think I would like to do this.'"

At Chicago's WIND a few years later, his engineer suggested Collins use something with the word "jazz" to title his program, since it was a jazz show. A product of the day, a clip-on bow tie called Jazzbeauxws, did the trick. "I went on the air that night," Collins remembers, "and said, 'Hi, this is Jazzbeaux here with some really fine music.' And the phones started ringing and everybody wanted to know 'Who's Jazzbeaux?' I said, 'Heck, it's a really good handle.'"

The handle helped get Collins to WNEW in 1950. He recalls a night there, too.

"I started my broadcast in Studio One which was painted all kinds of tints and shades of purple on huge polycylindricals which were vertically placed around the walls of the room to deflect the sound. It just happened to be that way. And with the turntables and desk and console and the lights turned down low, it had a very cavelike appearance to my imagination. So I got on the air, and the first thing I said was, 'Hi, it's Jazzbeaux in the Purple Grotto.' You never know where your thoughts are coming from, but the way it came out was that I was in a grotto, in this atmosphere with stalagtites and a lake and no telephones. I was using Nat Cole underneath me with 'Easy Listening Blues' playing piano in the background."

For fun, Collins gave the Grotto its own bestiary — Harrison the Tasmanian Owl, who dug Paul Desmond and Brubeck; Jukes, a female chameleon who went for swing; Clyde, a Dixieland-digging crow; and a flamingo named Leah, who, Jazzbeaux told his listeners, liked "music to fly by."

In days, fans began showing up at WNEW demanding to be taken downstairs to the Purple Grotto.

Collins capitalized on his radio fame in 1954, cutting a series of "Great Moments in Hipstery" bop-talk records for Capitol. "Little Red Riding Hood" was his hit, but "Discovery of America" had some choice lines. On Columbus, "hanging out at the royal court in Spain": "Chris has been on the scene for months and there's one thing on his mind: boats. It was then that he met Queen Isabella, who had only one thing on her mind: (ahem). In short, she had bulging eyes for our man. In fact, she was verily flipping her coronet for Mr. C..."

Jazzbeaux split for San Francisco from 1960 until 1969. From '60 to '62 he had his own TV show on the local ABC affiliate, mornings at 8:30 right after the Crusader Rabbit cartoons and before Jack LaLanne's warm-ups. Many viewers (this one included) couldn't quite believe their eyes or ears. Here was Collins, in sky-blue jumpsuits, interviewing celebrities, politicians, sheiks, musicians, and Third Street bums as they sat in a barber chair. Here were impromptu studio performances by the entire Count Basie Band, Louis Prima, Jackie Mason, and others.

"The producer of the show and I would drive down the street in San Francisco. If we saw anybody that looked like a character — or anybody that looked different from everybody else — we'd yell at them, 'Seven o'clock tomorrow morning at Channel Seven. Be there!' We got great guests — one pirate-looking guy with a wooden leg who walked around like Captain Hook." A central part of the TV program was the the scene from "Treasure of the Sierra Madre" where Mexican actor Alfonso Bedoya tells Bogart, "Badges? [pronounced bodges] I don't have to show you any stinking bodges!" The line delighted Collins for twenty years.

Late in 1981, Jazzbeaux left Frisco's KGO to return to WNEW. Back in the Purple Grotto, he once again followed a Coleman Hawkins side with an impromptu dissertation on the virtues of egg-drop soup ("A lot of people misunderstand it. It's best when it gets into a gelatinous kind of feeling, if you know what I mean."), plugging a small-press poetry mag, inviting character-callers like the Baron of Bleecker Street to phone in.

The Baron is the head of Società Mangione ("the society of people who love to eat"), the first New York chapter of Al's Pals, more than three hundred individual special interest clubs formed by Jazzbeaux buffs across the country.

"That whole 'club' thing started in San Francisco," says Al. "We were having a bad drought, and one night this off the wall lady called up the show one night and said, 'Jazzbeaux dahling, if you want to have water, you must have frogs. Everybody knows that where frogs are, there's water, so if everybody gets a pair of frogs and puts them in their back yards, soon we'll have water.'

"So, I said, 'Gee, that's a great idea, Olga.' And I hung up. About ten minutes later a guy named Mike calls and says 'Al, I have an albino frog with pink eyes, and I'd like to be a member of the frog club.' I said, 'Listen, Mike, if you've got a pink frog with red eyes or whatever, I think you should be the president of the Frogonians.' I gave his address, and in a week he had about forty-five letters from people. And today it's still going and he's got over ten thousand registered members."

Jazzbeaux keeps it all spinning from behind his pickle barrel in the Grotto. The calibrated candle's white and purple rings tick off the minutes in a slow burn beneath Forty-second and Third. On the turntable something cool spins. The dawn breaks.

Sometimes Jazzbeaux would get the audience into the music by saying: "Now I am gonna majuberate a new group of selections, that you will love."
---
JAZZBEAUX LINKS
www.wfmu.org/LCD/20/jazzbo.html
http://www.bayarearadio.org/audio/jazzbeaux/
---
"Soundies" Big Band Videos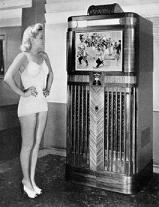 A Soundies "jukebox," or "panoram"
From Wikipedia
Soundies were an early version of the music video: three-minute musical films, produced in New York, Chicago, and Hollywood between 1940 and 1946, often including short dance sequences. (The completed Soundies were generally released within a few months of their filming; the last group was released in March, 1947.) The films were displayed on the Panoram, a coin-operated film jukebox or machine music, in nightclubs, bars, restaurants, factory lounges, and amusement centers.
Several production companies filmed the Soundies shorts: James Roosevelt's Globe Productions (1940-41), Cinemasters (1940-41), Minoco Productions (1941-43), RCM Productions (1941-46), LOL Productions (1943), Glamourettes (1943), Filmcraft Productions (1943-46), and Alexander Productions (1946).
Soundies covered all genres of music, from classical to big-band swing, and from hillbilly novelties to patriotic songs. Jimmy Dorsey, Spike Jones, Liberace, Stan Kenton, Gale Storm, Kay Starr, Doris Day, The Hoosier Hot Shots, Harry "The Hipster" Gibson, Gene Krupa, Anita O'Day, Merle Travis, and Lawrence Welk were a few of the Soundies stars. Many nightclub and recording artists also made Soundies, including Gloria Parker, Charles Magnante, Milton DeLugg, and Gus Van. More than 1800 of the Soundies mini-musicals were made, and many of them have been released to home video.
Today Soundies are perhaps best known for the performances of African-American artists who had fewer opportunities to perform in public venues. Fats Waller, Louis Jordan, Dorothy Dandridge, Big Joe Turner, Meade Lux Lewis, Lena Horne, Louis Armstrong, Nat King Cole, and Stepin Fetchit all made Soundies.
Beginning in 1941 Soundies experimented with expanding its format, and filmed comedy Soundies with Our Gang star Carl "Alfalfa" Switzer, Broadway comic Willie Howard, dialect comedians Smith and Dale, and silent-movie comedians The Keystone Kops. Most of these films were non-musical, and were not as well received as the musical Soundies. Soundies abandoned the comedy-sketch idea, but continued to produce filmed versions of comic novelty songs. They were regularly described and reviewed in the entertainment and music trade publications, such as Billboard.
---
Smith Wigglesworth
Smith Wigglesworth was born on June 8, 1859 in Menston, Yorkshire, England, to an impoverished family. As a small child, he worked in the fields pulling turnips alongside his mother; he also worked in factories. During his childhood he was illiterate.

Nominally a Methodist, he became a born again Christian at the age of eight. His grandmother was a devout Methodist; his parents, John and Martha, were not practicing Christians although they took young Smith to Methodist and Anglican churches on regular occasions. He was confirmed by a Bishop in the Church of England, baptized by immersion in the Baptist Church and had the grounding in Bible teaching in the Plymouth Brethren while learning the plumbing trade as an apprentice from a man in the Brethren movement.

Wigglesworth married Polly Featherstone on May 2, 1882. At the time of their marriage, she was a preacher with the Salvation Army, and had come to the attention of General William Booth. They had one daughter, Alice, and four sons, Seth, Harold, Ernest and George. Polly died in 1913.

Wigglesworth learned to read after he married Polly; she taught him to read the Bible. He often stated that it was the only book he ever read, and did not permit newspapers in his home, preferring the Bible to be their only reading material.

Wigglesworth worked as a plumber, but he abandoned this trade because he was too busy for it after he started preaching. In 1907 Wigglesworth visited Alexander Boddy during the Sunderland Revival, and following a laying-on of hands from Alexander's wife Mary Boddy he experienced speaking in tongues (glossolalia). He spoke at some of the Assemblies of God events, though he never joined the denomination.

Ministry

Wigglesworth believed that healing came through faith, and he was flexible about the methods he employed. When he was forbidden to lay hands on audience members by the authorities in Sweden, he preached for a "corporate healing", by which people laid hands on themselves. He also practiced anointing with oil, and the distribution of prayer handkerchiefs (one of which was sent to King George V). Wigglesworth sometimes attributed ill-health to demons.

Wigglesworth ministered at many churches throughout Yorkshire, often at Bethesda Church on the outskirts of Sheffield, where he claimed to have had many prophecies. He also had an international ministry: as well as Sweden, he ministered in the U.S., Australia, New Zealand, South Africa, the Pacific Islands, India, Ceylon, and several countries in Europe. Some of his sermons were transcribed for Pentecostal magazines, and these were collected into two books: Ever Increasing Faith[5] and Faith that Prevails.

Wigglesworth said he had made a commitment to God that he would not sleep at night before he had won a soul for Christ every day. He claimed that on one occasion he could not sleep because he had not met this commitment, and that he went out into the night and met an alcoholic to whom he spoke and persuaded to become a believer.

Wigglesworth is considered one of the most influential evangelists in the early history of Pentecostalism and is also credited with helping give the movement a large religious audience.

David du Plessis recounted that Wigglesworth prophesied over him that God would pour out his Spirit on the established churches, and that David du Plessis would be greatly involved in it. Later du Plessis was very much involved in the Charismatic movement.

Wigglesworth continued to minister up until the time of his death on March 12, 1947.

Healing

Wigglesworth claimed that God had healed him of appendicitis and much of his ministry was focused on faith healing. There were many miracles attributed to him, some reported in the popular press and in Pentecostal magazines such as 'Confidence' which had been founded by Boddy. Wigglesworth avoided all medical treatment, despite suffering from kidney stones in his later years. These eventually passed naturally.

He refused any surgical procedure, and stated that no knife would ever touch his body either in life or death. Wigglesworth claimed to have raised several persons from the dead - including his wife Polly,[6] a man called Mitchell, and a Baptist Pastor's wife, a Mrs. Clarke. His friend and biographer Walter Hibbert adds the claim of a man raised from the dead who had been embalmed and was in a funeral parlour, and Wilson in his biography tells of a woman who, brought into a meeting in a coffin, slapped Wigglesworth's face after being raised up, stating that she had had a far better time in the hereafter. Wigglesworth claimed to have raised between three and twenty-three persons from the dead.








---
Korla Pandit
Korla Pandit (September 16, 1921 – October 2, 1998), born John Roland Redd, was a musician, composer, pianist, organist and television pioneer. He was known as the Godfather of Exotica.

A Missouri-born African-American, Pandit spent his career (until his death) passing as an [eastern] Indian.

Early career

In 1921, Pandit was born in St. Louis, Missouri, to an African-American family. The next year, his family moved to Hannibal, Missouri, where they lived for nine years. In 1931 the family moved to Columbia, Missouri.[2] Pandit's father was Ernest Redd, an African-American man and Baptist pastor, and his mother was Doshia O'Nina Redd, of French and African ancestry.[1] Pandit had two brothers and four sisters, all light-skinned like him. He attended a segregated school and learned to play piano. A contemporary of his, jazz pianist "Sir" Charles Thompson, knew him during that time; he said that John Roland Redd was the better piano player.

During the mid-1940s, as Juan Rolando, he played the organ on the Los Angeles radio station KMPC, and he performed in various supper clubs and lounges.[4] Performing as Juan Rolando, he was also heard on the Rudy Vallée Show and Jubilee, the program of black jazz and swing bands transcribed by the Special Services of the War Department for airing to WWII servicemen overseas.

In 1944, he married Disney artist Beryl June DeBeeson, and the two reinvented his image, eventually replacing "Juan Rolando" with "Korla Pandit" and fabricating a romantic history for him as a baby born in New Delhi, India to a Brahmin priest and a French opera singer, who traveled from India via England, finally arriving in the United States.

Chandu the Magician

In 1948 he created eerie background music for the revival of radio's occult adventure series, Chandu the Magician, achieving atmospheric effects on the Novachord and the Hammond CV (Ancestor of C-3) Electronic Organ.[5] In 1949, he was heard on Hollywood Holiday, broadcast from a Los Angeles restaurant.

Television

Korla Pandit performed at Tom Breneman's Restaurant, seen here as it looked in 1947, Breneman broadcast his Breakfast in Hollywood radio program from here in the late 1940s.

In 1948, while performing in Hollywood at a furrier's fashion show in Tom Breneman's Restaurant, Korla and Beryl met television pioneer Klaus Landsberg who offered Korla his own 15-minute daily television show with the stipulation that he would also provide musical accompaniment for Time for Beany, Bob Clampett's popular puppet show which featured Stan Freberg and Daws Butler as puppeteers and voices. Korla and Beryl's son, Shari Pandit, was born August 5, 1948.

Korla Pandit's Adventures In Music was first telecast on Los Angeles station KTLA in February 1949, and viewers soon became familiar with the musical opening, "The Magnetic Theme." Landsberg insisted that Korla not speak but instead simply gaze dreamily into the camera as he played the Hammond organ and Steinway grand piano, often simultaneously.[1] Following Klaus's directorial and contractual stipulations, Pandit became an overnight star and one of early television's pioneering musical artists.

In 1951, Pandit left KTLA in a deal with Louis D. Snader of Snader Telescriptions, resulting in short films which gave Pandit a national TV audience. However, problems with contract negotiations prompted Snader to replace Pandit with Liberace by 1953, which launched the pianist to fame. Pandit then did a show on San Francisco's KGO-TV in 1956.

In the 1970s, when his television popularity waned, Pandit supplemented his income with increased personal appearances at supper clubs, supermarket openings, car agencies, music and department stores, pizza restaurants, lectures, music seminars, private lessons and the theater organ circuit. He made a cameo appearance in Tim Burton's biographical film, Ed Wood (1994), playing himself.

Recordings

Pandit's audio works number over two dozen albums on 78 rpm and 45 rpm records, LP vinyl albums and CD labels. The back of his LP Hypnotique (Fantasy 8075) lists eight other Fantasy Records LPs by Pandit, and he eventually recorded 13 albums for Fantasy. His Christmas album, Merry Xmas (CD reissue 2007, Deja Vu), has been highlighted by Nick DiFonzo in The WORST Album Covers in the World... EVER! (New Holland Publishers, 2004). The album cover may be viewed at All Music.

Pandit died in Petaluma, California of a myocardial infarction. Two years following his death, it was revealed in an article by Los Angeles magazine editor R. J. Smith that Pandit was actually an African-American who had been born in the United States.


---