FONTS & "Wingdings"
(ALSO CHECK "NEW" FONTS Below the List)
---
FONTS DISPLAYED "LIVE" (left) vs HOW THEY'RE SUPPOSED TO APPEAR (right)
(Check if your PC is reading the font codes correctly.)





verdana
times new roman
courier new
tahoma
arial
helvetica
arial black
copperplate gothic bold
westminster
garamond
impact
comic sans ms
bookman old style
century
century schoolbook
letter gothic mt
news gothic mt
Monotype Corsiva
Tempus Sans ITC
Trebuchet MS
Calisto MT

New Fonts

Kristen ITC
Brush Script MT
Lucida Calligraphy
Old English Text mt
Bradley Hand ITC

---
Size Codes
(Font Size="-1")hi there
Sizes can run from Size 7 to NEGATIVE sizes, for "small" font, e.g.: Font Size="-4"(NOTE THE USE OF QUOTES WHEN USING A MINUS ( - ) SIGN)
ALSO:
Use
h1
down through
h6 !

"H6" IS A VERY SMALL FONT. If regular font codes like "small" don't work, try these.
---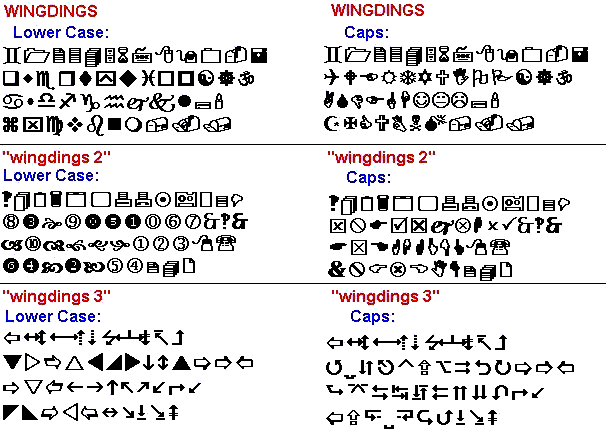 ---
---